BannerUp Plus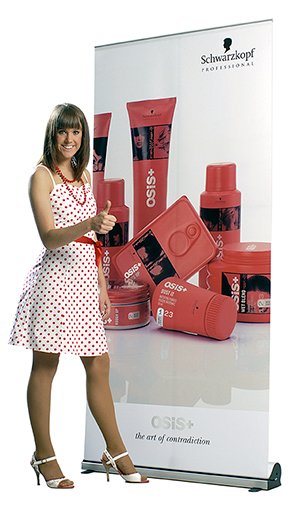 A unique & patented banner change system, which enables you to replace graphics in less than a minute

BannerUpPlus is the perfect accessory for exhibitions, conferences, sales promotions, any event where an instant portable display is required. It is available in 4 sizes all standing 2120mm high
880mm, 1000mm, 1200, 1500
Visual height 2060mm
Carry bag
10 year hardware warranty
There are extension poles available if a higher display is required (3000mm) and they may be joined horizontally to form an even more impressive presentation.
The graphics are printed onto a synthetic media and laminated with a UV protective non- reflective film for added protection.
Swap between graphics
in minutes
It's Easy Change system allow graphic panels to be interchanged in seconds
SLIDE IN and SLIDE OUT
, no tools required
The low profile case ensures your graphics are the focal point, not the system, and it comes with a well padded carry bag designed for interstate andnternational transport. Halogen spotlights with a dimmer switch are an optional accessory to add further impact.